My Blog
Posts for: April, 2018
By Drs. Heller & Meersand
April 25, 2018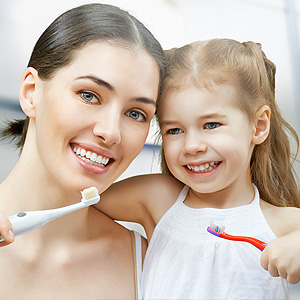 A child's formative years have an immense impact on their physical, mental and emotional well-being. As a parent you want them to have every advantage possible.
That should include a healthy mouth — actions you take now could determine the long-term soundness of their teeth and gums. Here are 5 things you can do to ensure your child's present and future oral health.
Begin oral hygiene habits early. By early, we mean even before their first teeth appear. Wipe their gums after every feeding with a water-soaked cloth or gauze pad; when teeth appear switch to brushing with just a smear of toothpaste on the end of the brush.
Start dental visits around their first birthday. Early dental visits increase the chances of detecting and treating developing problems before they become worse. And starting may also help your child become comfortable with visiting the dentist — waiting until later increases the chances of anxiety and an aversion to dental visits that might carry over into adulthood.
Adopt dental-friendly home and lifestyle habits.  Don't allow your child to sleep with a pacifier or bottle filled with sugary fluids, including breast milk or formula: fill them with water instead. Limit their sugar consumption to small amounts and only at meal times. And be sure to "childproof" your home against hazards, especially sharp-edged furniture that could damage teeth if they make hard contact with it.
Teach them to care for their own teeth. Although you'll need to brush their teeth for them in the beginning, be sure you eventually teach them to perform this vital habit for themselves. To ease the transition try modeling the behavior or make it into an activity you can do together.
Partner with your family dentist. Your dental office can do more than prevent or treat dental disease — they're an important resource in helping you manage your child's dental needs at home. They can coach you on brushing and flossing techniques, and provide information to set your mind at ease about concerns like teething or thumb sucking.
If you would like more information on complete oral care for your child, please contact us or schedule an appointment for a consultation. You can also learn more about this topic by reading the Dear Doctor magazine articles "Dentistry & Oral Health for Children" and "Top 10 Oral Health Tips for Children."
By Drs. Heller & Meersand
April 15, 2018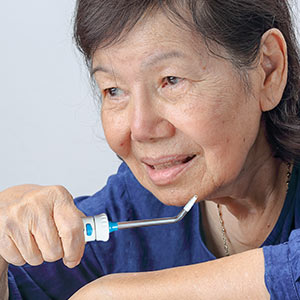 The most important part of dental health maintenance isn't what your dentist does—it's what you do every day when you brush and floss your teeth. And all you really need is a multi-tufted, soft bristle toothbrush, toothpaste, a roll of dental floss—plus a little effort from your hands and fingers.
Of course, manual power isn't your only option—an electric or battery-powered toothbrush is a convenient and, for people with strength or dexterity issues, a necessary way to remove disease-causing plaque from tooth surfaces. You have a similar option with flossing—a water flosser.
Although water flossers (or oral irrigators) have been around since the early 1960s, they've become more efficient and less expensive in recent years. A water flosser delivers a pulsating stream of pressurized water between the teeth through a handheld device that resembles a power toothbrush, but with a special tip. The water action loosens plaque and then flushes it away.
While the convenience these devices provide over traditional flossing is a major selling point, they're also quite beneficial for people with special challenges keeping plaque from accumulating between teeth. People wearing braces or other orthodontic devices, for example, may find it much more difficult to effectively maneuver thread floss around their hardware. Water flossing can be an effective alternative.
But is water flossing a good method for removing between-teeth plaque? If performed properly, yes. A 2008 study, for example, reviewed orthodontic patients who used water flossing compared to those only brushing. The study found that those using water flossing were able to remove five times as much plaque as the non-flossing group.
If you're considering water flossing over traditional flossing thread, talk with your dental hygienist. He or she can give you advice on purchasing a water flosser, as well as how to use the device for optimum performance. It could be a great and more convenient way to keep plaque from between your teeth and harming your dental health.
If you would like more information on water flossing, please contact us or schedule an appointment for a consultation. You can also learn more about this topic by reading the Dear Doctor magazine article "Cleaning between Your Teeth: How Water Flossing can help."